Gracie Hollombe
After reaching year six of her five-year plan, Gracie moved from L.A. to Nashville in the spring of 2000. As Regional Workshops Director for the Nashville Songwriters Association International (NSAI), she guided and inspired coordinators of over 100 workshops worldwide. For two years, Gracie hosted NSAI's "Thursday Night Workshop", sharing information on the craft and business of songwriting while interviewing music industry guests, moderating "Pitch-to-Publisher" and "Pro-Teaching" sessions, and providing song evaluations for NSAI members.
Since her move to Nashville, Gracie has been diligently following the techniques offered in Your First Cut. Her songs have been recorded by several of her co-writers, including award-winning writers Jerry Vandiver ("For a Little While" - Tim McGraw) and Jon Vezner ("Where've You Been" - Kathy Mattea).
When not writing music, Gracie heads up Mother Knows Best Media, generating publicity for her roster of independent artists and record labels. She also serves as a faculty member at SongU.com.
Gracie can be heard playing her music in Nashville clubs -- she's a big Artist's Way fan -- and she makes one heck-of-a bowl of chicken soup!
Jerry Vandiver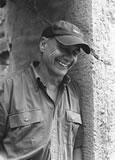 Originally from Kansas City, Jerry made the move to Nashville in 1984. Since then, he has been a staff writer for Dick James Music, Little Big Town Music, and Malaco Music while owning and managing a mail order demo studio on Music Row. He is currently an exclusive staff writer for Talbot Music.
Jerry's first major label cut was "Don't Waste It On The Blues" by Gene Watson which reached #5 on the country charts. Since then, he has had songs recorded by Wild Rose, Lee Greenwood, Barbara Mandrell, Phil Vassar and two by Tim McGraw including "For A Little While" which reached #2 on the country charts and was performed by McGraw on the David Letterman Show. The song is also featured on McGraw's Greatest Hits CD. Thanks to Tim, Jerry now has songs on over 13 million records!
For more information on Jerry, or to purchase his CD "Don't Try This At Home," log on to www.jerryvandiver.com.
© Copyright 2002, Jerry Vandiver and Gracie Hollombe. All Rights Reserved.